Visa regulations.
Ever changing and always with controversy it seems.
I should point out that to apply for a visa to go to Korea, one must go through their
local Korean consulate
. The three most common reasons to visit Korea are for traveling (tourist), teaching (English), and business (international). For this blog entry, we will focus on the first one. Next week will focus on the E-2 teaching visa.
Visa application information
changes somewhat frequently so it's important to check with official online resources prior to making plans. This post is intended to provide an overview from a strikingly handsome American citizen's point of view.
Below is a breakdown of the tourist (C-3 90-day) visa. Information was pulled from the
Houston Consulate
.
If you are a US citizen and are a tourist staying in Korea for less than 30 days no visa is required.
If you are a US citizen and are applying for a visa to stay up to 90 days for tourism, visiting friends and/or relatives, goodwill match, events,conference, cultural art, training, religious ceremony or academic data-gathering you need to submit the following documents:
A signed

US passport

with remaining validity of at least 6 months and one blank visa page.

A completed and signed Application for visa

A recent

passport color

photo (2"x2" )

attached on the application form

$45.00 Visa Processing Fee

.

All fees can be paid by Cash or Money Order.

All Money Orders should be made payable to The Korean Consulate.

If you are applying by mail you will have to include a

prepaid postage return envelope

(USPS Express mail, Fedex or similar kind of overnight mail) with complete address

for the passport to be returned.

If you are applying for tourism or visiting friends and/or relatives - A Flight itinerary or a copy of Round-trip Airline ticket

lf you are applying for goodwill match, events, conference, cultural art, training, religious, ceremony, academic data-gathering

-

Original Documents proving the purpose of entry
This office will not make copies, if you need original documents, please bring the original and one copy.

This office is not responsible for the loss of any documents including passports.
Below is an index pulled from
the Korean consulate website
that details the required documentation for certain types of visa. Bolded items are a bit more applicable to KC101 students.
Diplomats (A-1)
Officials (A-2)
Agreement (A-3)
Temporary News Coverage (C-1)
Short-Term Business (C-2)
Short-Term Visitors (C-3)
summer jobs, short-term Korean classes, extended travel
Culture/Art (D-1)
Students (D-2)
full-time Korean university students
Industrial Trainees (D-3)
General Trainees (D-4)
Residence Reporters (D-5)
Religious workers (D-6)
Intracompany Transferees (D-7)
Treaty Investors (D-8 )
Treaty Traders (D-9)
Professors (E-1)
Teaching Foreign Languages (E-2)
common teacher visa, position tied to visa
Research (E-3)
Instruction of Technology (E-4)
Specialty Occupation (E-5)
Art and Entertainment (E-6)
Particular Occupation (E-7)
Training Employment (E-8 )
Visiting& Joining Family(F-1)
Residence(F-2-1)
if spouse is Korean citizen
Dependent Families(F-3)
Korean Residents Abroad (F-4)
for Korean decedents and adoptees
Permanent Residence (F-5-9)
must be in Korea 5 years or hold F-2-1 for 2 years
UPDATE 1/09:
More on student study visas.
Essentially, so long as you go to Korea for less than 30 days (the vast majority of tourist agendas) you're fine. You won't need any special visa, but you will need a valid passport and a return ticket (proof of round trip ticket or e-ticket is generally acceptable). But get ready for a seriously long flight. Mine was fourteen hours with no leg room.
I should point out that
recently a big change in Korean visa regulations has occurred
. Starting in late November,
South Korean citizens can visit the United States for up to 90 days without any special visa requirements
. Some are grumbling at the
possible influx of illegal immigrants
with fake passports; however, a new electronic passport system will also now be in place which will most likely curb such practices. Either way, this new law will encourage international exchanges within the two countries and speed up the other "for real" visa process for the rest of us. It also will save South Koreans the $110 visa application fee that they were previously required to pay. Below is a graphic organizer that shows the new step-by-step process for Korean citizens. The new application can be completed as soon as 72 hours prior to departure.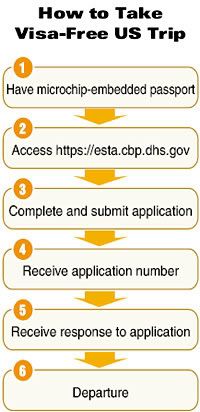 What are visa applications like for Korea in your home country (other than USA)? Anyone been to Korea with any special visa considerations?
Here's a nice little international visa chart taken from
everyone's favorite punchline tourism campaign: Korea Sparkling.
The first chart is for citizens who can travel to Korea visa-free while the second chart is for those citizens who can apply for a visa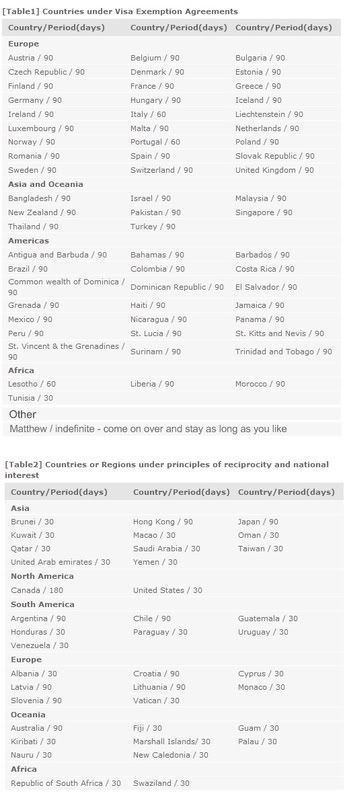 Woah there Canada, 180 days? No fair.
Thoughts?